Time travel
29 november 2005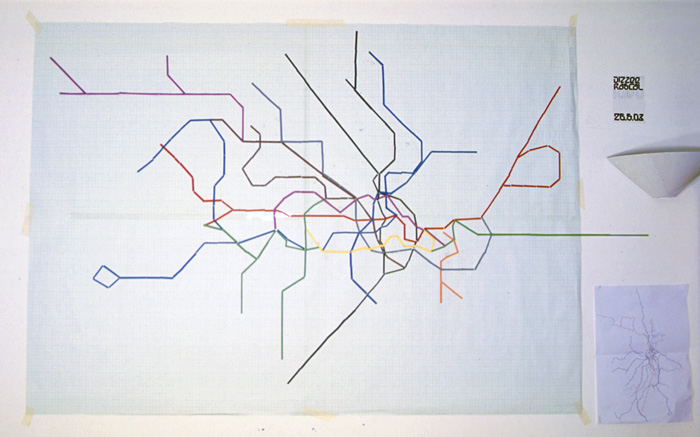 Map in photo above is a part of one of my final projects I did for my last school, London College of Printing (now London College of Communication). It was an attemt to redesign the London Underground map. In the beginning when I didn't know what to do with the project, I called it "impossible mission". How could I come up with some innovative ideas to this piece of design that is by many considered as one of the best in graphic design ever?
Well, I knew couldn't just do a normal re-design; something had to be added. I started thinking what's different in the world now from when the map was designed and one thing that are different today is time. No one has any time left any more. Time is money. Time is everything and so on. Today you never tell anyone how far away in miles you live, but in minutes or perhaps hours if you're unlucky. So I decided to create a re-design based on time instead of distance (normal maps) or simplicity (tube maps). By combining geographically accuracy with simplicity and time I started out with measuring the time it takes to travel between each station in the whole system. After that I started drawing in Adobe Illustrator but I didn't get far – It was too complex to draw on the map. I needed to do it all by hand, so I cut out strings of paper in different colours and lengths (depending on distance in time) and started modelling (image below, and above). The modelling was very complicated since there are so many lines in London and they have all different trains (=speed) and amount of stations which made it very hard to connect all lines, but after weeks I finally ended up with an OK version (image above).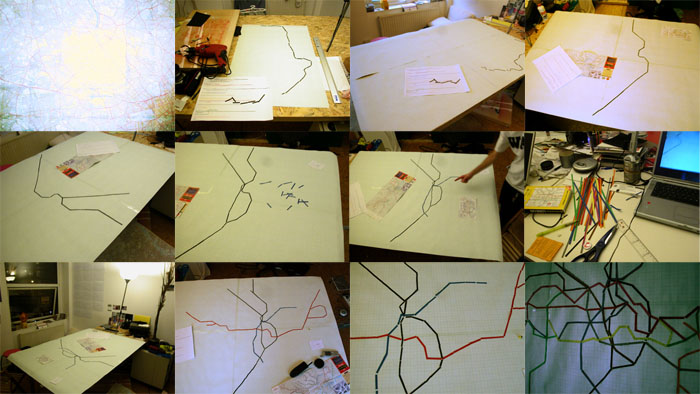 When the analog bit was done, I photographed the map, scanned it and put it in the background in Illustrator. This time it wasn't as hard as the first time to draw. The problem now was how to display all lines and stations intersections in a relatively new way and not just a copy of the original designs. I found a design system and also finally a typeface (Univers) that I think worked well.
Next step was to create a new type of background zoning system. This would be measured in, of course, time too. Since my school was in Elephant & Castle, I put time 0 at that station and then I created zones for each 5 minutes travel from Elephant & Castle. The idea is that the background is different on each station around the system.
I also wanted to change the colours to more releveant colours. I looked into the wavelengths of different colours and based that on the average speed of each line. Central line was fastest and Circle line slowest.
Below are images showing the process of drawing the map in Illustrator. The close-up one is showing the area around Kings Cross.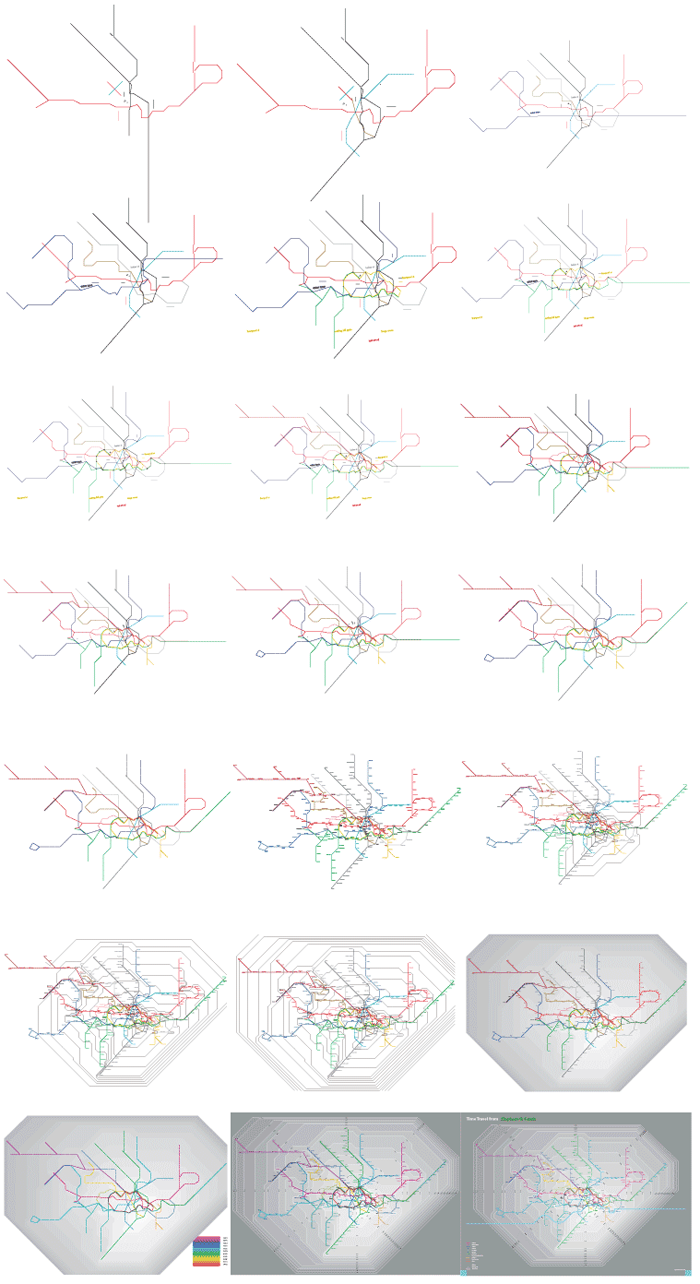 This is the final map focused on Elephant & Castle. The scale in the bottom left is a time scale, in minutes. Each zone represents 5 minutes.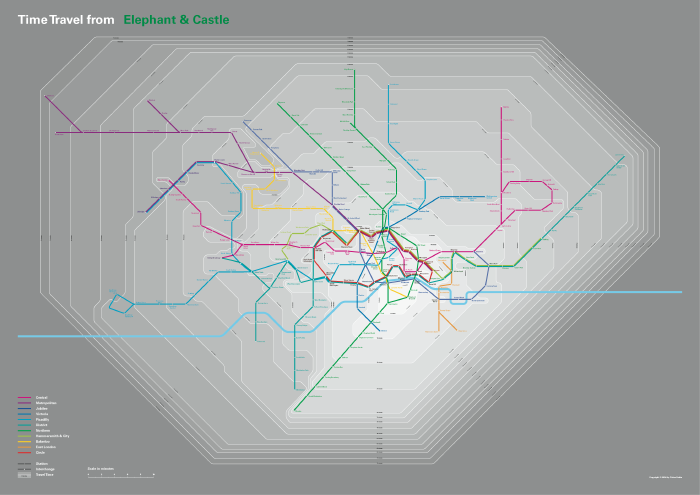 This is the final map without zones.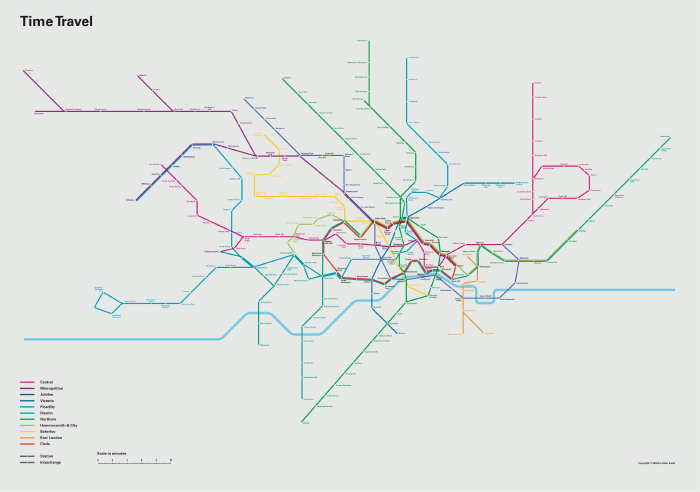 Download map in pdf format:
timetravel.pdf
timetravel_no_zones.pdf
UPDATE
By popular demand, I have made another version of my map and used the same line colours as the original tube map. Enjoy!
timetravel_no_zones_old_colours.pdf