April 3, 2005 – the day architects became mainstream celebrities
27 mars 2005
next week on the third of april next episode of simpsons will be starring the architect frank gehry. this could be the first main appearance in mainstream tv of an architect as a star/celebrity. before, architects weren't really stars (well they were huge stars inside the architecture community but not really outside that click?) but it seems like that is changing. after having stars like michael stipe, the rolling stones, different actors its now time for a "real" architect to be in the show. i haven't seen the show yet but according to tvtome this is what's happening:
"To prove to Shelbyville that Springfield is not a hick town, Marge convinces the Springfield townspeople to fund a Frank Gehry designed concert hall. Opening night turns disastrous after the sounds of Beethoven's Fifth Symphony drive the uninterested townspeople away, ultimately leading the hall to bankruptcy. Never one to miss an opportunity, Mr. Burns assumes the debt and turns the hall into the Montgomery Burns State Prison. Initially the prison proves to be a positive addition to the town, providing jobs to almost everyone except Homer, who is imprisoned after a lab test mix-up. Meanwhile at prison, Fat Tony puts a mark on Homer's head for being a snitch."
i also read a huge article about rem koolhaas recently in the new yorker magazine which also portraited him as a big celebrity, and i guess he is, because he is according to the article good friends with jeff koons, the celeb artist so why not.
for you who doesn't know who frank gehry is – he is dude who designed the guggenheim museum in bilbao. this is how it looks like: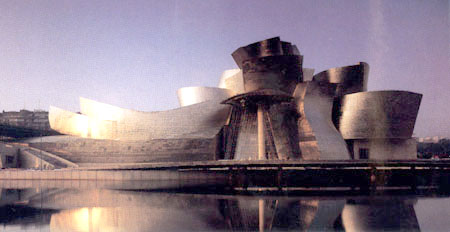 and rem koolhaas he is most famous for his writings but he designed the new cctv building in beijing that are being built at the moment: